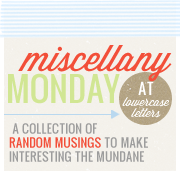 ONE
- Weather - I can't believe this heat. Sometimes I walk outside and it almost feels suffocating. The 20 feet or so I walk from my office to my car in the afternoons is enough to do me in. I've said it
before
, but I will forever be grateful to this man, Willis Haviland Carrier - inventor of the air conditioner.
TWO - Running - After almost 4 years, I'm really starting to love it. Don't get me wrong, it's still EXTREMELY hard to get up at 5AM and get started. And I still ask myself a dozen times while I'm running what is wrong in my fool head to put myself through that BUT - the feeling afterwards is indescribable.
THREE
- I'll be an Aunt again in November! (No, not
Mama Hen
.) Hubs sister, Kay is PG with a boy! I just can't wait for him to get here!
FOUR
- I caught an episode of Toddlers &Tiaras this weekend and I've gone from being speechless to ranting to back to speechless. It would be interesting to see a "Where Are They Now" on these little girls in 20 years. Do they even have a chance? So sad...
FIVE
- My baby brother turned 34 yesterday. It's amazing how that can happen when I'm just 29...
Have a great Monday!