I did something Saturday that I've never done before. I made pottery in a real studio! I know!!!
The lovely,
Rachel
invited a few local bloggers to
Earthborn Pottery
in Leeds for a few hours. This place is awesome! It's a huge warehouse where artist's can rent studio space and where regular people like me can go and feed their creative beast. Check out these beautiful pieces. These are the kind of things they sell.
It was so great! Tena Payne owns the studio and she was so sweet to teach us how to use the wheel and hand-form. Yes, you read that right. I used a pottery wheel. Not only did I use it, but I took a piece of clay and created a masterpiece. OK, maybe that's a bit of an exaggeration, but it was a masterpiece to me. IT IS SO MUCH HARDER THAN IT LOOKS!
Tena gave us a demonstration on the wheel and made it look like a breeze.
And then.... I tried it. For some reason, mine didn't work exactly like Tena's. I don't think the clay was supposed to jump right off the wheel.
This was me after Tena told me my piece of clay was beyond repair and went to get me another one.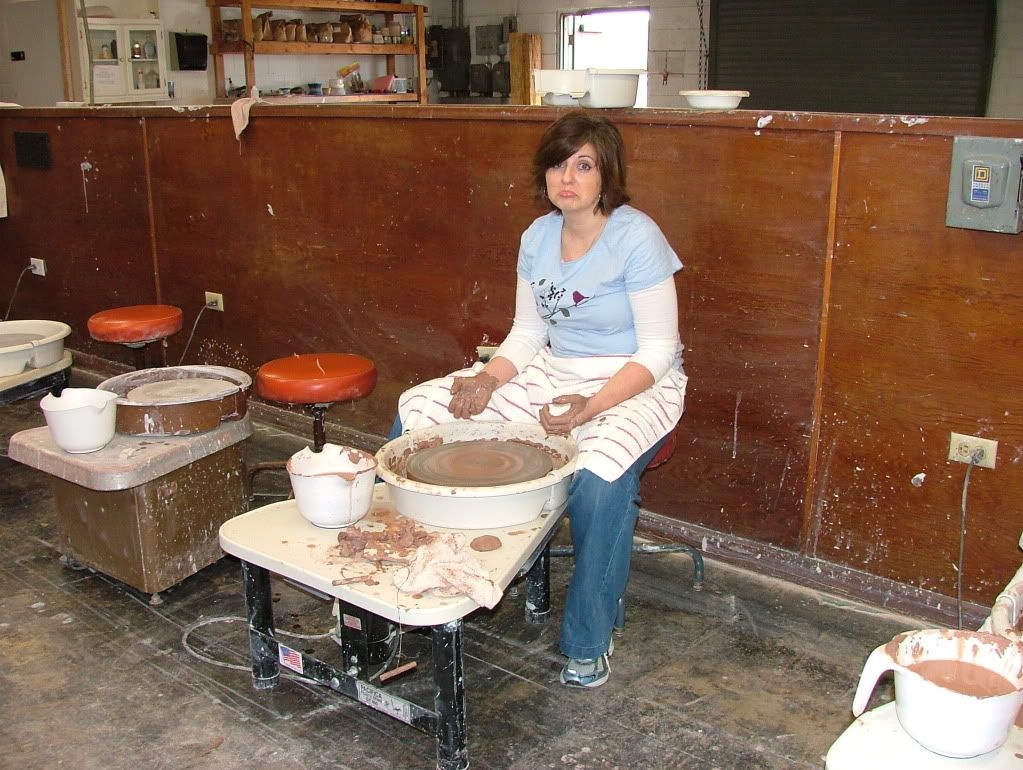 Never fear, I eventually wound up with my masterpiece and I was MUCH better at hand-forming. This is
Mama Hen
and me getting started.
I can't even begin to tell you how much fun I had at my very first blogger's event. I met some great girls and did something I've always wanted to do. We won't be able to pick up the pieces we made for 4 to 5 weeks because they have to be fired and glazed. I can't wait to see how they turn out. Oh, and don't worry, you all will see them too. And when you see them, you'll get to see the great piece Tena gave me for a GIVEAWAY!!! You'll love it, and you'll want to win it!

And, just in case you're wondering, it was NOTHING like Ghost.